::.LIMINAL is creative-research artwork started in Honduras by new media artist Gabriel Vallecillo Márquez with the collaboration of dancers Isadora Paz and Lempira Jaén and presented as a work-in-progress at the "Festival Luz y Vanguardias" in Salamanca, Spain in 2018. Three years later and due to the COVID-19 pandemic the concept was revisited and the implications of the initial creative-research redirected with a new approach, vision and method to establish multi-level connections between physical body, liminal space and the city.
::.LIMINAL is a transdisciplinary choreography integrating filmed dance works from 7 contemporary dancers of diverse backgrounds, with 3D architectural projection mapping on buildings in public space to produce an experimental short film using the city's architecture as an expanded skin.
Monumental projections of augmented performing bodies trapped in the city's architecture narrating through movement transformational stages of becoming and freeing themselves from liminal space in the very context of the city that holds them will be a unique experience, both for the event goers, as well as passersby that encounter these projections and decide to stay and watch.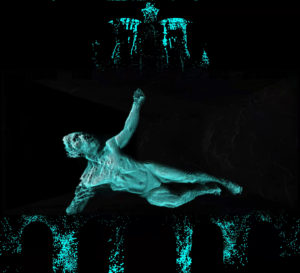 Learn how it all started in 2018 with Isadora Paz and Lempira Jaén: https://www.gabrielvallecillo.com/liminal
::.LIMINAL production process is divided into two phases:
Phase 1 (November 2021)
In Phase 1 we created the content, developed the choreography, researched locations and created a curatorial narrative, created the studio set for each building and filmed the dancers with their unique building in mind and conducted in-studio interviews. By November 2021 we will complete Phase 1 with 6 architectural videomapping dance/performance projections on selected buildings and spaces in Berlin. Phase 1 is funded and supported by NPN-Stepping Out/ Neustart Kultur / BBKM.
Phase 2 (July 2022)
In Phase 2 we will produce the dance/performance expanded cinema short-film, connecting all the projections, locations and stories about the city to create a unique dance integration/interpretation with the city as a sentient and live body manifesting itself all throughout the urban space.
PERFORMANCE
7 dancers/performers trapped in an enclosed space will reflect their personal experience about liminality, opening a dramaturgic door of emotions and stages: desperation, calm, disbelief, confusion, struggle, acceptance as they try to free themselves from liminal space and become.
SHORT-FILM
The projections in public space of the entrapped bodies of dancers will be filmed, along with interviews and scenes of the city of Berlin to create a unique experimental film based on videomapping projections.
LIVE-CINEMA
Under a concept of expanded cinema, the deconsructed short film will be re-composed live and projected using videomapping techniques on selected buildings whose history will inform and affect the choreographic dramaturgy of the live-cinema experience.
::.LIMINAL is funded and supported by: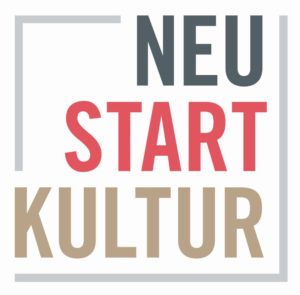 A project in partnership with neue häute: e.V. Künstler-Kurator*innen Kollektiv- https://neuehaeute.org/